Spinning Machineries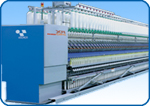 Weaving Machineries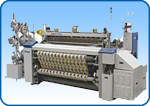 It has been almost 80 years since the history of Toyota Industries Corporation began. In 1924 founder Sakichi Toyoda invented the revolutionary Type G automatic loom, a manifestation of his words "dedication to technology and creativity is the source of world trends".


Ever since that time, Toyota have followed the founder's philosophy, and with the mottos of "Customer priority" and "Quality first" as the cornerstone of our business, Toyota have strived to develop products which meet the many needs of our customers.


Tapping its leading-edge technology and creativity, the Textile Machinery Division of Toyota has constantly introduced revolutionary spinning and weaving machinery. Furthermore, Toyota have contributed to advancement in the textile industry around the world, by improving plant productivity and work efficiency through such developments as futuristic factory automation.


Toyota's latest internet technology & electronics take the Mill into the world of the internet to create an information management system never before possible. Through this system, customer can instantly check the production status of their mill from anywhere in the world. This advanced system enables total production management including monitoring machines, obtaining maintenance records and keeping track of the entire spinning & weaving process.